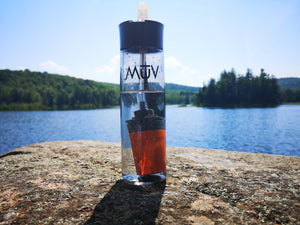 Renovo Water
MUV Nomad Water Filter
Sale price Price $45.00 Regular price
Virus and bacteria protection in a bottle. Whether you are traveling through a third-world country or visiting a beach in the Caribbean, the Nomad will make sure your drinking water is safe. Simply fill the MUV water bottle from the tap in your hotel room or public drinking water source, insert the filter which is connected to the screw top with a tube, and begin to drink through the mouth piece.
Perfect for traveling the world
Filters chemicals, heavy metals, bacteria, and viruses
Filters 99.999% of bacteria (Giardia, eColi, Cryptosporidium)
Filters 99.99% of viruses
Blocks sediment and large particulate
Improves water taste and clarifies water
Nanalum electrostatic filter technology
Filter capacity: 90 gallons
Weight: 8.5 oz.
Includes:

(1) MUV3 Nanalum Filter
(1) Out+28 Assembly
(1) Hose Adapter
(1) Water Bottle
(1) Bottle Tube (included in water bottle)


To buy, visit Renovo Water directly at: https://hydroblu.com/muv-nomad-water-filter/

Check out a Borealism review of this product.
*Price listed on Borealism does not reflect true price that is subject to change by vendor